Co-UDLabs – H2020 Project

Building Collaborative Urban Drainage research labs Communities
H2020 european project – May 2021, May 2025
This project has received funding from the European Union's Horizon 2020 research and innovation programme under grant agreement N°101008626.
Graie is part of the Co-UDLabs project, lead by the university of Coruna.
A website will be soon available.
JOB Opportunities
PhD STUDENT
– EAWAG – Department of Urban Water Management (Switzerland) : 2021-2024
Better understanding pollution dynamics in urban drainage systems with novel monitoring approaches.
Deadline for applications: 7 June 2021
POST-DOC POSITION – DEEP laboratory, INSA Lyon (France) : June 2021 – June 2024
SMART SENSING AND MONITORING IN URBAN DRAINAGE
Mathieu LEPOT joined INSA Lyon in June, 2021
Building Collaborative Urban Drainage research labs Communities
The overall aim of Co-UDlabs project is to integrate research and innovation activities in the field of Urban Drainage Systems (UDS) to address pressing public health, flood risks and environmental challenges. In the project 17 key large scale research facilities of seven Research Infrastructures (RI) will be integrated on an European scale into an ambitious project aiming to offer the R&D community, water infrastructure operators and their supply chain high quality laboratory and field facilities, human resources and improved data sharing platforms in order to meet critical UDS related societal, environmental, and economic sustainability challenges of the 21st Century.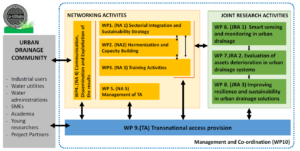 9 partners
The consortium is coordinated by the University of Corona (Spain) and consists of 9 partners from 7 European countries. Co-UDlabs consortium comprises 4 Universities (University of A Coruña (Spain), University of Sheffield (UK), INSA Lyon (France) and Aalborg University (Denmark), all with world-class urban water research groups, combined with 3 leading national research institutes (Deltares (Netherlands), EAWAG (Switzerland) and IKT (Germany). The consortium also includes GRAIE, a non-profit organization with proven abilities in creating partnerships between industry, water utilities, policy-makers and the researchers from public institutions, and the specialized multi-sectorial SME EURONOVIA.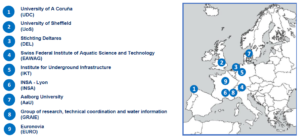 The project budget is of €5 million and is fully funded by the European Commission (H2020 Programme)
17 unique 'field scale' urban drainage experimental facilities
Co-UDlabs brings together 17 unique 'field scale' urban drainage experimental facilities, providing innovation, collaboration and high level training opportunities. The main aim of CO-UDlabs is to integrate research and innovation activities in the field of UDS to address these pressing challenges and provide opportunities for pervasive monitoring of water quality, UDS performance and smart and open data approaches.